KRLS Bookmobile
The Mobile Public Library, or "Bookmobile," began as part of the Cass County Library in 1966. Since that time we have had four different vehicles. Our newest vehicle was put into service on November 17, 2015.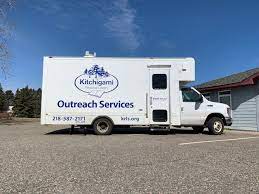 Bookmobile contact information
Mobile Library
310 Second St. North
P.O. Box 84
Pine River, MN 56474
Phone (218) 587-2171 (Ext #226)
Email Address: krlbook@krls.org
KRLS Bookmobile schedule
Click the button below to download our current route schedule
You can also find maps of our typical times and routes below.
1st and 3rd Tuesday every month
1st and 3rd Thursday every month
2nd and 4th Tuesday every month
2nd and 4th Thursday every month
2nd and 4th Saturday every month
1st and 3rd Tuesday every month
Jan 4, 18 | Feb 1, 15 | Mar 1, 15 | Apr 5, 19, | May 3, 17 | Jun 7, 21
---
Menahga – 9:30-11:30 Near the Bakery on Murray Street
Sebeka – 12:30-1:30 Senior Citizens Building
Nimrod – 2:00-3:00 Senior Citizens Center
1st and 3rd Thursday every month
2nd and 4th Tuesday every month
2nd and 4th Thursday every month
2nd and 4th Saturday every month