Park Rapids: Finding My Voice: a Journey through Nature and Music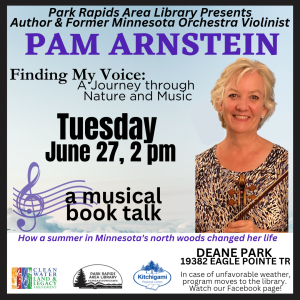 A Journey Through Nature and Music @ Deane Park, Park Rapids 2pm
A family-friendly event for all ages.
Pam Arnstein is recently retired after four decades as a professional violinist in the Minnesota Orchestra. Her book, Doctor May's Cabin, is based on life-changing childhood experience. She will combine a book talk with violin music, sharing the story of how she was inspired to find her own voice by her trailblazing grandmother and aunt.
This event will be at beautiful Deane Park- 19382 Eagle Pointe Trail in Park Rapids. If case of inclement weather (including rain, storms, & high humidity) the program will be moved to the library meeting room. Check the Park Rapids Area Library Facebook page for updates on the day of the event.
This program is funded with money from Minnesota's Arts and Cultural Heritage Fund.